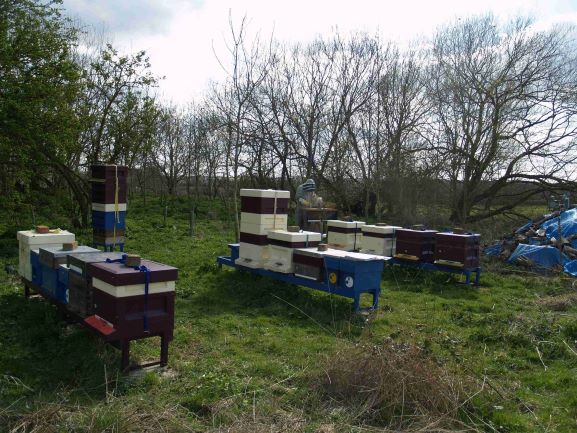 Range of honey textures
Taken direct from the comb using an unheated fork, spun, coarse filtered then put into the jar. No messing!
Our out apiary in Stoke Hammond
All our honey is all-natural, untreated, cold filtered, 100% raw, Buckinghamshire honey.
As beekeepers we take a great deal of care to make sure our bees are kept in the best conditions.

Our bees are kept in various apiaries around Buckinghamshire including Milton Keynes, Stoke Hammond, Great Brickhill, Stewkley and Castlethorpe and as bees only forage within a 3 mile radius this means all the honey is local.
The forage around the apiaries varies as the seasons change and this means our honey flavours and textures change as well.
We have three basic types of honey, runny, natural set and creamed.
Runny is just that but, like all honey, it will crystallise and set over time.Natural set is a rough texture set honey. Good for spreading on toast as it sticks to the spoon.Soft set honey is pasteurised and worked to produce a very smooth set texture in comparison to natural set which has a more grainy texture. Beautiful to eat off the spoon but also to spread.
We also sell a select range of infused honeys based on our natural set.

To purchase please visit our shop page or to arrange a collection or ask a question please contact us via the contact form link at the top of this page.
Amazing sweet nectar
I have always liked honey but wanted to move away from shop bought and find local from source honey. I have not been disappointed, this is smooth, sweet and delicious. I have some in hot water every morning and as a hayfever sufferer I'm hoping using local honey will indeed help…time will tell!
Highly recommended, just placed another order.
Response from Buckinghamshire Honey Company
Thank you so much for your feedback Tammy! Fingers crossed with your hay fever… Some customers have told me it works, so there is hope!
Lovely Owner; Lovely Honey!
Helene [pronounced LN] personally delivered my six jars of Runny Honey. I am yet to find a nicer and healthier runny honey than Helene's!
Response from Buckinghamshire Honey Company
Thanks Andy! It was a pleasure to meet you.
This is what I call a proper honey.
Finally, after 25 years of searching for a proper honey is over.
Forget about supermarket honey, Buckinghamshire Honey Company is the one for me.
Taste unique and pure, how I expected it—love supporting local businesses. For me, Christmas presents sort it. Thank you 😉
Response from Buckinghamshire Honey Company
Thank you so much for your enthusiastic feedback Nadia! It is so nice to hear! By all means, get ready for Christmas … no issues with stocks or delivery ;)…and of course a great treat for the lucky recipients! :))
Surprised
I'm not a lover of honey but I brought two jars yesterday from a lovely lady I have to say it was delicious definitely recommend it
Response from Buckinghamshire Honey Company
Very glad it was a happy "surprise" Danny! I hope the honey helps with your hay fever!
Nice Local Honey
My son suffers heavily with Hay fever and I thought of trying local honey. We started using this honey and it was really good and you can feel it. If you live nearby, I would suggest to travel and pick up as it's a beautiful place.
Response from Buckinghamshire Honey Company
Thank you for your kind comments. We hope the honey helps your son.