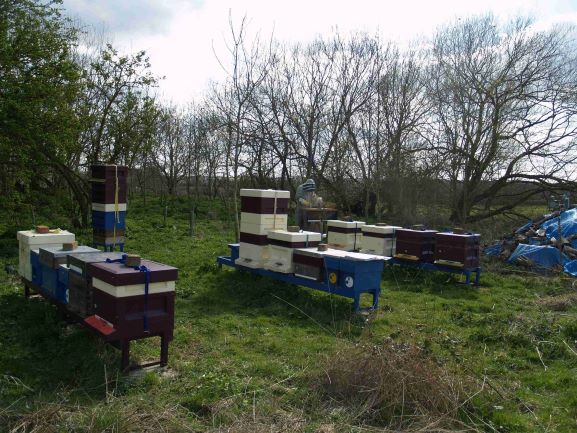 Range of honey textures
Taken direct from the comb using an unheated fork, spun, coarse filtered then put into the jar. No messing!
Our out apiary in Stoke Hammond
All our honey is all-natural, untreated, cold filtered, 100% raw, Buckinghamshire honey.
As beekeepers we take a great deal of care to make sure our bees are kept in the best conditions.

Our bees are kept in various apiaries around Buckinghamshire including Milton Keynes, Stoke Hammond, Great Brickhill, Stewkley and Castlethorpe and as bees only forage within a 3 mile radius this means all the honey is local.
The forage around the apiaries varies as the seasons change and this means our honey flavours and textures change as well.
We have three basic types of honey, runny, natural set and creamed.
Runny is just that but, like all honey, it will crystallise and set over time.Natural set is a rough texture set honey. Good for spreading on toast as it sticks to the spoon.Soft set honey is pasteurised and worked to produce a very smooth set texture in comparison to natural set which has a more grainy texture. Beautiful to eat off the spoon but also to spread.
We also sell a select range of infused honeys based on our natural set.

To purchase please visit our shop page or to arrange a collection or ask a question please contact us via the contact form link at the top of this page.
Yummy runny honey
I bought the runny honey to help my toddler tackle seasonal hayfever, but it was so delicious that we all ended up using it up within a few days. I've never had honey that had a fragrant taste before. It's absolutely delicious!
Response from Buckinghamshire Honey Company
Thanks for your kind comments Sherane. Delighted the whole family have adopted our honey! We look forward to seeing you again soon!
Lovely honey!
This honey is so delicate and lovely and the makers communicate so well with regard to collection of orders. Looking forward to weeks of enjoying it!
Response from Buckinghamshire Honey Company
Thank you very much for your kind comments Peter. Delighted you are enjoying our honey…hopefully it won't be weeks before you come back for more! 🙂
Proper Honey!
Picked up 4 jars of runny honey and can confirm it's perfect. So much better than the watery rubbish from the supermarket. Amazing depth of flavour, at a great price. Collection was quick and easy. I'm very grateful for the ease and personal manner with which I was dealt. I highly recommend.
Response from Buckinghamshire Honey Company
Thanks Lee! It was lovely meeting you on Saturday. Delighted you like our honey, and we look forward to your next visit!
An Amazing Experience!
As a primary school teacher, I approached Buckinghamshire Honey to ask whether I could pay them a visit to learn more about the amazing world of bees. They kindly obliged. Before arrival, I was prepared with a few questions to ask them, however, little did I know that they had a bee suit ready for me to witness first hand these awesome creatures in action! David and his partner took the time to share all their wonderful knowledge; I was filled with awe! I cannot recommend Buckinghamshire Honey highly enough both for their generosity of spirit whilst providing real insight into bee keeping but also for the excellent quality and taste of their honey. Their ginger infused honey is a personal favourite. Needless to say, I will be purchasing more!
Response from Buckinghamshire Honey Company
It was really great to work with you so that the children could get a better understanding of these wonderful creatures that mean so much to us and the environment we live in. I hope the children are as fascinated as you were.
Best Raw Honey I ever bought
I was buying raw honey since start of the pandemic and after trying raw honey from several companies, I wanted to try something local to help with my hey fever and I can say that this is the best honey I have ever bought. The taste of the honey is very fresh and owners are very kind to allow me to taste several honey too. I would definitely recommend this company if you want to have something local and fresh. This is family owned business which gives personal touch if you are collecting it from their shop.
Response from Buckinghamshire Honey Company
Thank you very much for your feedback Arjun. It is lovely to see our work being appreciated!